How to care for silver
First of all, the materials used in Ao jewelry are
Silver1000 called silver925 and pure silver
(Some Christmas limited products use plating)
silver925 means that it contains 92.5% silver
The remaining 7.5% is mixed with metals such as copper
Since silver is originally soft, in order to keep strength
Metals other than silver are also mixed
(Sterling silver silver1000 will be explained in detail in another article!)
Wearing silver accessories for a long time
I think there are many people who feel that it is discolored black.
Many people think that this discoloration is caused by rust.
In fact, it turns black due to a reaction called sulfidation.
Sulfur components in the air, perspiration, hot spring components (hot springs without sulfur components do not react)
Sulfurization is when silver turns black in response to
The decisive difference from rust is that
Since rust corrodes and deteriorates the entire metal, it is difficult to repair once rusted.
However, sulfidation is just a film on the surface of the metal, so simply polishing the surface will return it to its original state.
There is also a technique called "Ibushi" that makes silver black.
If you like a well-used atmosphere,
You can also enjoy the natural darkening while using it.
Now let's take a look at how to store and care for them!
Storage method
In order to prevent discoloration due to sulfurization, it is best to avoid contact with air.
In addition, stains such as sweat and sebum, and adhesion of cosmetics and perfumes
Please note that it may cause discoloration.
1. Wipe with a silver cloth after use
2. Divide the accessories into small pieces and store them in a small zipper bag.
(100-yen zipper bag is OK)
Let's put earrings separately on the left and right
We recommend that you wrap it with a cloth or tissue to prevent scratches.
This will reduce the discoloration to some extent.
I think there are many people who think that it is troublesome, but it is very easy, so please try it!
Care instructions
① Polish with a silver cloth
here is the easiest way
If you purchase from Ao jewelry, a silver cloth will come with it.
You can keep it in a clean state if you are conscious of polishing it on a daily basis after use.
(2) Use the sulfide removal cleaner SPEEDIP for silver.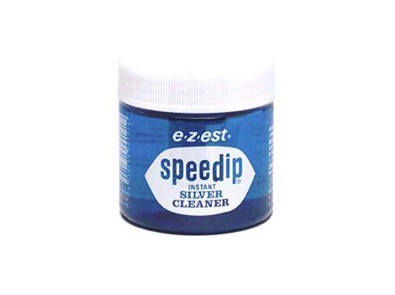 Soak the silver jewelry you want to clean in the speedip
Do not hold it directly with your hand, use a non-conductive object such as disposable chopsticks to throw it in.
The time to soak in the liquid is within 10 seconds! Be careful not to apply too much! ! !
* Never leave it in liquid for more than 10 seconds.
Then take it out and wash it well with lukewarm water.
If you do not get a sufficient effect with one treatment, do not extend the soaking time,
Repeat the process of washing with water → soaking in liquid → washing with water
Please refer to the instructions on the back for detailed instructions on how to use it!
Even if your silver accessories have turned black,
It is possible to return it to its original state, so please try the care method ^ _ ^